personal taco truck hire
Mamacitas is a fully functioning rolling kitchen. We come to you prepped and ready to feed! Each scenario is unique and customizable to your needs. Contact Trish for an easy quote...please send location, date, occasion and number of guests
Feature 1
Mamacitas isn't just a Food TRUCK…It's community, it's laughter, it's dancing next to a fire, enjoying the right now with the right heres. Let Mamacitas private cater your next vibe with not only delicious authentic Mexican farm to truck street food but lighting, seating, decor and music.
Birthdays, Anniversaries, Engagements, Going Aways, Back Agains...Any occasion worth taking the hassle from you as a host and leaving the heavy lifting to us is our jam. Our lifetime of "creating those magic moments" experience is at your disposal.
You invite the guests, we taylor the menu, decor, music, lighting and service to meet your needs
gluten free * Vegan * Vegetarian *Meatatarian
Feature 2
INCLUDING
Mamacitas Taco Truck with attached all you can eat salsa Bar
3 staff 'chef, soux and attendant)
All food eco-friendly takeaway containers, napkins and basic cutlery for food and included drinks
ADD On's
Bar top tables, lighting, Corona Chilling Buckets, Mexican Blankets, Mexican Dress-up's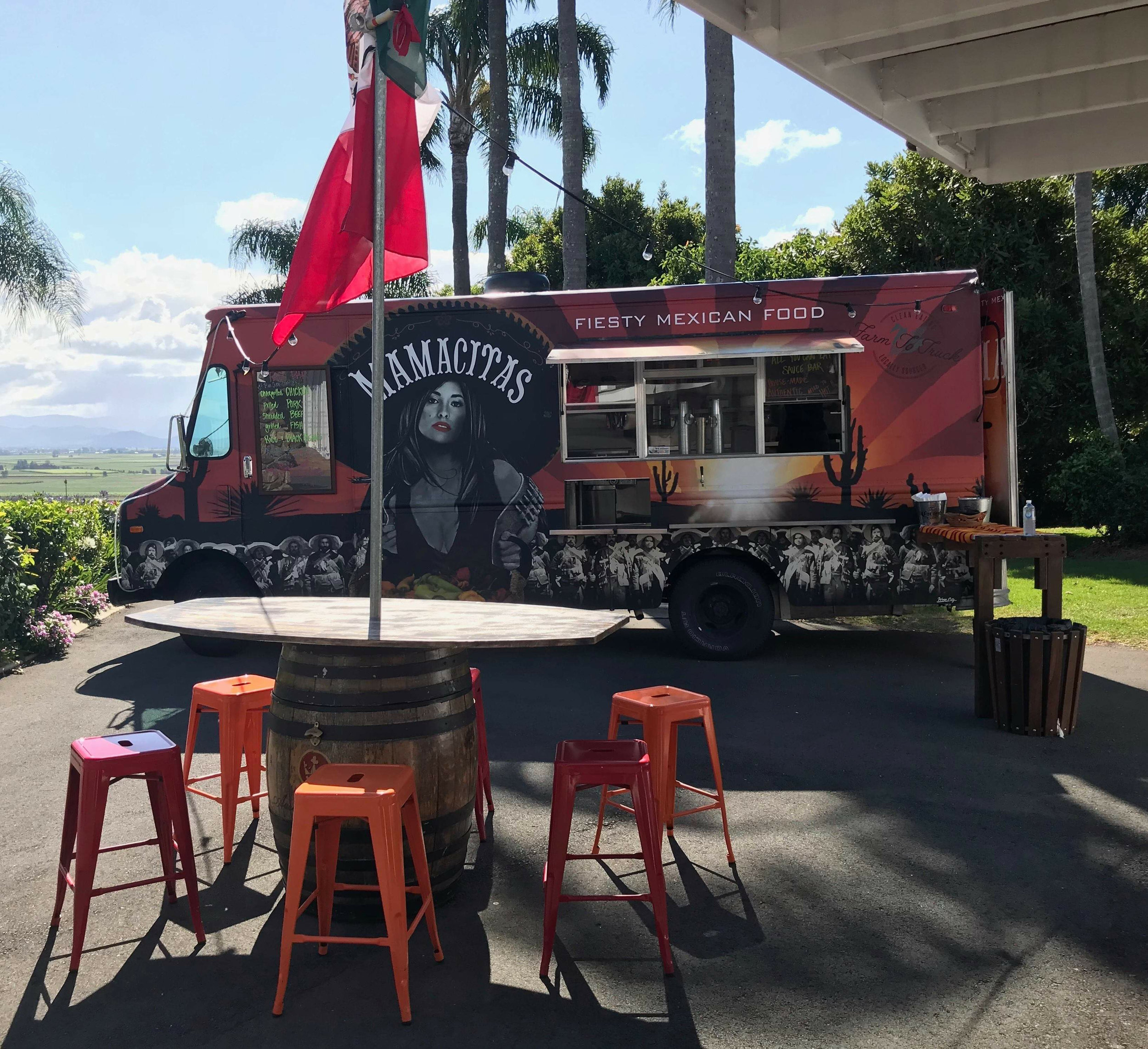 Feature 3
Taco Bar: 3 hours of service
Served in a double wrapped gf locally sourced corn tortilla. Topped with greens, salsa fresca, locally sourced Guacamole, Sour Cream and Cheese
Served directly from the Taco Truck using eco-friendly containers
All you can eat Authentic House-Made sauce bar is included ranging from Mild to Very Hot
Fillings:
Char-Grilled Citrus marinated Chicken
Shredded Skirt Steak
Mamatrish's Authentic Pulled Pork "carnitas"
Baja Fish (beer battered and fried)
Grilled Fish (white fillet simply seasoned)
Pulled Jack-Fruit (Tropical Fruit Worlds home grown and prepared magic health fruit turned into a savoury even meat eaters love
Walk around Tapas
Definitely a crowd pleaser!!! Great for any age and taste bud & 'easy one handed tastes' these would be served by a dedicated service person walking through your crowd.
Quesadilla: flour tortillas grilled with cheese, house made black beans and mild salsa roja cut into triangles, served with sour cream and guacamole
Nachos: Baked single layer Corn chips smothered with cheese, choice of protein, black beans and salsa roja. Topped with Guacamole, Sour Cream and Salsa Fresca
ADD
Continuous top up corn chips and salsa fresca
Share bowl of house made and locally hand selected guacamole serves approx. 20-30 people ….We do NOT overdress our Avocados. Lightly mashed with Lime, and salt…a bit of a HOT topic the old Aussie version of Guacamole ;)
DRINKS
Served directly from the taps on the front of the truck….BYO Alcohol
Agua Fresca: Seasonal Fruits and Vegs Blended and served over Ice (traditional Mexican Street Drinks)
Ice Cold Locally sourced Fruit Infused water
Coke * Diet Coke * Lemonade * Bottled Water *